The  Per Artem ad Deum Medal has been awarded by the Pontifical Council for since 2005; it is bestowed to those who enhance dialogue between the diversity of cultures in the contemporary world. The gala ceremony featured the laureates: Paweł Łukaszewski for "composing creativity and the quest for religious music essence", Jerzy Jan Skąpski for "work which translates the vision into artistic forms" and Leszek Sosnowski for "Polish literature development enhancement, with the particular recognition for his publication of a multi-volume series of books presenting St. John Paul II Pontificate history".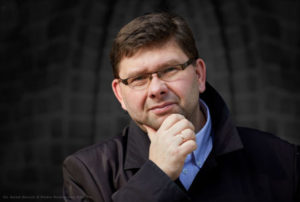 Paweł Łukaszewski is a Polish composer, conductor, academic teacher and musical life animator.  Łukaszewski is the laureate of numerous distinctions. In 2000 he was awarded the academic degree of Doctor of Fine Arts in Musical Composition, in 2006 a was awarded post-doctoral degree of Habilitated Doctor.  Since December 2010, he has been a research and teaching professor. On 28 July 2014 President of the Republic of Poland nominated Łukaszewski a full professor of musical arts.
His works have been performed at over one hundred festivals at home and abroad, including England, Argentina, Belgium, Belarus, Chile, China, Czech Republic, Denmark, Estonia, France, Spain, Iceland, Israel, Canada, South Korea, Lithuania, Luxembourg, Malta, Mexico, Moldova, Monaco, Germany , Peru, Russia, Romania, Switzerland, Ukraine, Uruguay, USA, Vatican City and Italy. In the 2011/2012 artistic season, Paweł Łukaszewski is a resident-composer at the Warsaw National Philharmonic. Łukaszewski is also a member of the festivals' artistic boards, including the International Festival of Sacred Music "Gaude Mater" in Częstochowa. He also sits on jury panels of composers' competitions, including those in Arezzo, Moscow, Bucharest and Cologne.  Łukaszewski is the  "Musica Sacra" Warsaw-Praga Cathedral Choir director and the head of "Musica Sacra Edition" music publishing house.
Łukaszewski is regarded one of the most outstanding contemporary religious music composers. His work has been appreciated globally,  the composer has been mainly recognised for composer's creativity which features religions profoundness.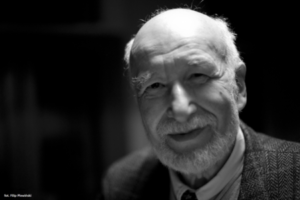 Jerzy Jan Skąpski is a painter, graphic designer and stained glass designer, one of the most outstanding stained glass makers in Poland, he is also an eminent expert and admirer of religious art.  His artistic interests also lie in easel and wall painting, posters and illustrations,  however, stained glass designs is the priority.  Jerzy Skąpski's stained glass windows can be admired in Polish and foreign churches and chapels, including those in Sweden, Russia and France. In Poland, Jerzy Skąpski's stained glass windows are found in  the Warsaw Church of Divine Providence in Ochota, in the Church of Our Lady the Queen of Poland – the Lord's Ark, in Gdynia's Our Lady of Częstochowa Navy Garrison Church, in the Churches of Podhale, in the Saint Maximilian Church in Oświęcim, in the Saint Pius Church in Ruda Śląska, in the Holy Cross Church in Zakopane, in the chapel of the prison in Montelupich Street in Krakow and many other – there is over 300 works in total.
Jerzy Skąpski is the author of Europe's largest stained glass window –  this is a triangular image of 177 square meters, 18.5 meters in height. The stained glass window is mounted in St. Adalbert's Church's front glass wall of the temple,  with Saint Adalbert as the main figure. The saint wearing an episcopal tiara holds an oar in one hand and a cross in the other.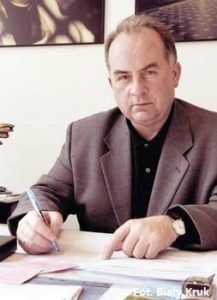 Leszek Sosnowski won 57 Polish and international awards, and among them the European Leader Awad 2005, Totus Award 2011, Pro Patria Medal 2017, Knight's Cross of the Order of Merit of the Republic of Poland 2018.
In 1996, he founded the "Biały Kruk" publishing house; Saint. Pope John Paul II has been the first author published by Biały Kruk.  This publishing company is the undisputed Polish book market leader  in albums,  for many years it has promoted and propagated domestic and global arts and traditions. Numerous publications on religious, patriotic and cultural matters serve as a wonderful show-piece of Poland, its history and centuries of its rich spiritual and material heritage. Leszek Sosnowski's genuine project – "Land of Benedict XVI" album was  published in two language versions.
In 2002 the White Kruk publishing house was expanded to include the Film Studio. This is where feature-length documentaries are produced, including 'God's Friend' with Leszek Sosnowski as the chief screenwriter.  In 2004, the film received the Niepokalanów festival Grand Prix in the feature film category. The publisher was highly valued by Saint John Paul II who appointed the Biały Kruk the exclusive publish of his "Renaissance Psalter" poems collection.
Leszek Sosnowski has been the editor of over 150 books devoted to Saint  John Paul II, including the 27-volume series "History of John Paul II Pontificate". Sosnowski also created 400 editorial concepts and graphic designs for books published by the Biały Kruk.
The next, 22nd festival of the church and religious business sector is to be held from 14 to 16 June 2021.